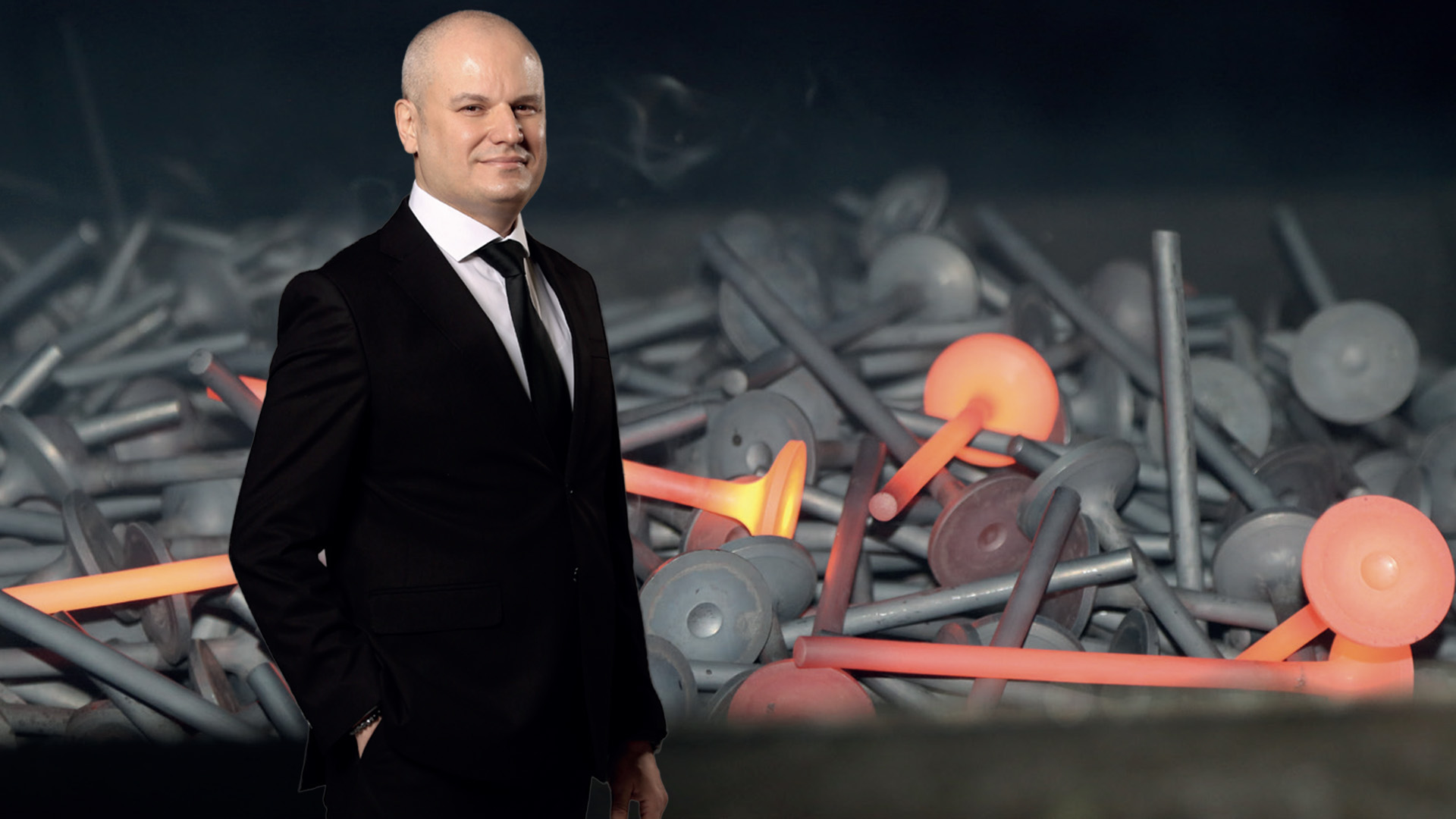 Yedek Parça Magazine June 2022 issue, interview with Ercan Çelik.
We had an excellent interview with Atınç OCAK, the General Manager of Supsan, a global player in its industry with exports to major vehicle manufacturers in the American, European, and Russian markets, particularly to OEM manufacturers including Ford Otosan, Oyak Renault, and Türk Traktör. Mr. Atınç, emphasizing that his company is the largest engine valve producer in Türkiye and the surrounding region, stated, "In addition to the valve, we trade in a variety of product lines on the spare parts market. With our turbo, cylinder head, camshaft, chain kit, cup, and gasket products in this product line, we hold a significant market share."
We would like to get to know you. Could you briefly tell us about yourself?
I was born in Istanbul in 1972. Private Çavuşoğlu College is where I completed my secondary and high school education. Then I graduated from the Mechanical Engineering department of Yıldız Technical University. I completed Sabancı University EDU Manager Development Program during my managerial career. I am married and have a son who is 11 years old.
How long have you worked in the automobile sector? How did you decide to work in this field?
My fascination with engineering and the motor industry began at a young age. Therefore, I first planned my study and professional path in this direction. I completed my factory internships throughout my undergraduate studies at Supsan Automotive Parts, a subsidiary of Borusan, where I am now the manager. With the offer of the company's then-general manager, I joined Borusan Group and Supsan as part of Borusan's "Executive Training Program" after graduating. Since then, I have spent almost 27 years as an operational and managerial employee at nearly every level of the organization. Since the start of 2021, I have been serving as the general manager of Supsan.
Could you give brief information about Supsan Automotive Parts?
Today, Supsan Engine Valves, created in 1970 and began producing engine valves for Tofaş under the Eaton company's license in 1973, has a manufacturing capacity of 10 million and is the largest engine valve producer in Türkiye's surrounding region. It is a global participant in its industry, with exports to major automakers in the American, European, and Russian markets, particularly to original equipment manufacturers like Ford Otosan, Oyak Renault, and Türk Traktör. In addition to the R&D project support for turbo development that we offer to OEMs, which distinguishes us from our competitors and has helped us gain a foothold in the Turkish spare parts market, the turbo production that we have recently begun producing alongside valves has also helped us distinguish ourselves from our competitors. In addition, we trade various product lines under our own brand in the spare parts market. Our cylinder head, camshaft, chain kit, cup, and gasket goods hold a substantial market share within this product line.
Could you tell us about the market share and position of Supsan Automotive Parts in the sector?
As previously stated, Supsan is the leading maker of engine valves in Türkiye and the surrounding region. In this regard, we hold a top position in the industry. Hence, we have the industry's preeminent position. We can supply engine valves to all market segments requiring internal combustion engines. We are able to manufacture engine valves for all industries, including agriculture, transportation, passenger car groups, construction machinery, marine, and aviation. Our primary objective is rapidly expanding our market share for the product lines we have created.
What would you like to say about the characteristics that distinguish the Supsan brand in a competitive market, such as the products' quality, warranty, pricing policy, and customer satisfaction?
Supsan has been synonymous with excellence and customer happiness. Our primary objective is to deliver error-free products to our customers while maintaining 100 percent process and final product control in all of our processes. In order to offer the quality with the best price, we intensely produce new projects. Particularly with the robotic automation operations we execute within the scope of Industry 4.0, we strive to reduce occupational safety hazards while maximizing the benefits of automation and digitalization. In addition to all of the already relevant quality certifications in the automotive sector, our Ford Q1 certification and the golden Ecovadis certificates we earned in 2020 propel us forward continuously.
Could you inform us about the reference numbers of the Supsan brand along with the shifting consumer demands?
Our structure is designed to be adaptable and open to development to meet our customers' varying needs. Our top objective is to manage our quality in accordance with the requirements of our availability and reference diversity, while consistently addressing our quality. Currently, we offer more than 50 product lines to the market, excluding engine valves. We have invested in and commenced the manufacture of sodium-filled valves, the final step in valve technology. Particularly in internal combustion turbo-assisted engines needing minimal volume and great performance, such valves with high thermal resistance are required when the high alloy materials employed remain insufficient. In addition, I would like to mention our turbo product. While establishing our presence in the turbocharger spare parts market, we are pursuing a number of R&D initiatives in order to become an OEM player, and we will continue to work in this direction.
To which countries does Supsan brand export? What are your objectives in Türkiye and on the global market?
OEM firms have traditionally selected Supsan as their supplier. From this perspective, the Supsan brand, particularly Ford Otosan, Oyak Renault, and Türk Traktor, are the most popular OEMs in the country. In addition, we differentiate ourselves from our competition by assisting OEMs with new engine projects through our R&D efforts. As a Class A supplier, we are able to pass the audits of many of the world's largest original equipment manufacturers (OEMs) and provide our products to many geographies, mainly Europe and the United States.
As far as you observe, what do you think are the positive/negative developments awaiting the automotive spare parts industry in the future?
In accordance with the 2050 zero-emissions target, the Paris Climate Agreement decisions disastrously affected the car industry. The working concept of the earliest atmospheric internal combustion engines, invented in the middle of the nineteenth century, has remained the same to this day, despite technological developments. In accordance with the objective of zero emissions, however, internal combustion engines have begun to be replaced by electric and fuel cell technology. The European Council has prohibited the production of passenger and commercial vehicles with internal combustion engines after 2040.
According to projections, electric car market penetration is predicted to reach 50 percent by 2030, particularly in industrialized nations. Obviously, these projections are contingent on the government's implementation of the essential infrastructure to enable the use of electric vehicles at the same rate as the manufacture of electric vehicles.  For such technologies to be implemented rapidly, the most crucial criteria for consumers will be an appropriate charging infrastructure, vehicle ranges that must be extended in tandem with technology advancements, and the introduction of more affordable vehicles. Electrification, autonomous driving, shared automobiles, and linked vehicles will play a significant role in this industry's rapid transition if we consider future trends in this direction. While the spare parts industry gains importance in this setting, it will also undergo change. Since the use and production of internal combustion engines will continue for some time and the transition to complete electrification will be gradual, the supply of parts for internal combustion vehicles, in particular, will continue, while a new market and demand for electric and fuel cell vehicles will emerge as they are activated gradually. At this point, manufacturers and suppliers who can keep up with this shift and transformation will remain competitive, while those who cannot adapt will progressively lose their mobility and market share. In order to attain future success in the automotive industry, industry participants must reevaluate their business procedures. In this direction, businesses should invest more in R&D to develop new customer-centric products and services, business models centered on mobility rather than products, and the shift from internal combustion engines to electric vehicles.
As you know, what are your predictions about the economy and automotive sector for the world and Türkiye in 2022, which we entered in the fight against coronavirus and in the shadow of the pandemic?
The battle against the coronavirus has considerably affected the industry's supply chain management. The challenges with semiconductor supply and the impacts of the recent Russia-Ukraine war have severely impacted the capacity utilization rates of the sector's manufacturers. As a result, the supply-demand mismatch created by production limits arises as a major issue in both our country and the international community. According to industry forecasts, these issues may persist through the end of next year, albeit to a lesser extent. The world's and our country's high inflationary environment has caused a very high and rapid growth in production costs, becoming one of the greatest challenges for manufacturers in the current era. Especially unexpected is the rate at which energy and raw material prices are rising. Therefore, it is essential to handle this scenario, which also has a commercial impact on the sector.
Could you tell us about your R&D projects?
Our "R&D Center" infrastructure is located in the T.R. with more than fifty years of corporate experience and expertise. We are pleased that the Ministry of Industry and Technology registered us in 2017 With the engineering test, analysis, and approval competencies we've built, we also function as a solution partner while offering our customers with high-efficiency, high-quality products that have technical benefits at cheap prices. In this regard, our primary R&D objective is to provide solutions for our customers that incorporate novel techniques by keeping up with evolving technologies. As Supsan R&D, we recognize the significance of having sustainable technology and R&D expertise and invest in this area to achieve this objective. Our R&D Center has completed 21 projects with a total of 23 researchers, 10 engineers, and 13 technicians. We have five registered patents, one utility model, and eight pending patent applications. Our projects: We focus on product development, process development, material development, digitalization, and information systems. Within the area of product development, we employ our national and worldwide expertise in the most precise manner to assist our clients in overcoming the challenges they face while designing the subcomponents for the engines of the next generation.. While offering new products to the OEM, OES, and spare parts markets, we are continually trying to enhance the quality and performance of our existing goods. We use advanced methods such as Finite Element Analysis (FEA) and Computational Fluid Dynamics (CFD) to obtain the optimum design. With these competencies, our technical expert staff develops parts for our clients' internal combustion engines, whose efficiency and durability have been redefined, and improves the performance of existing parts by undergoing rigorous testing and acceptance procedures. We have completed the design, prototype, optimization, testing, and approval processes for the New Generation Sodium Filled Valve (TEYDEB Project with OEM Partnership), turbo and hydraulic oil pump parts for OE firms within the scope of our product development studies.
We continue our efforts to develop new technology goods or achieve a production cost advantage in existing products in order to improve the processes of the products we produce or newly commissioned products through process development and to increase efficiency. With our machine design and manufacturing expertise, we conduct R&D projects to refresh the machine park in our production lines and to optimize their processes regularly. Utilizing this expertise, we have replaced fifty percent of the machines used in the production of valves, particularly those involved in crucial operations, during the past fifteen years, and are currently employing cutting-edge technology. Our objective with material development is to improve the performance and cost of the materials we utilize in our products. With alloying and Supsan patents, we want to be able to design materials based on specific requirements and acquire particular material recipes. We use mechanical testing and measurements, material characterization, prototype fabrication and verification tests, and surface coating and heat treatment procedures within the scope of the research. Within the realm of our working priorities and techniques, we are utilizing material, heat treatment, and surface coating technologies to increase tool and mold life. We conduct material verification investigations by generating a pool of alternative materials with the same or similar performance characteristics. In addition, we develop agreements with universities and research institutions in order to implement R&D initiatives and take advantage of opportunities outside of our framework. Supsan aims, within the scope of digitalization and information systems, to transfer the manual methods used in production and office processes to a digital environment, to reduce labor waste to zero with digitalization, to access the software development capability for needs, to analyze this data by collecting data from production and other processes, and to motivate the employees and process the process with the analyzed data. We intend to develop it into an autonomous organization. In this context, our areas of focus are to revise the digital infrastructure of all production and management processes, to optimize and digitize accounting processes, to collect and analyze data from critical production processes, and to use the analyzed data to create early warning systems with predictive maintenance approaches and to evolve these systems into self-deciding systems. As of 2017, we have initiated seven projects and completed four of them. We have digitalized a total of 12 management procedures. In contrast, when it comes to complicated difficulties in valve systems, our R&D Center has the expertise, skills, and tools to collaborate with clients and discover solutions. Our engineering services include comprehensive services for the materials and design of all system components, including valves, valve seats, valve guides, tabs, push rods, and overfill systems, based on the individual needs of our clients. We do simulations and analyses based on the performance and expected lifespan of a proposed product, its design, and its constituent materials. We provide our customers with numerous engineering advantages. In this context, we offer services for the evaluation of the Valve-Baga-Gayd design, the evaluation of materials and design, and the finite element determination of static and dynamic stresses on the valve. In addition, based on the engine parameters, we can determine the valve life using the finite element approach and the valve temperatures using the computational fluids method. Regarding determining the temperatures on the valve, we ensure that thermometric components are manufactured, that thermometric engine tests are conducted in the engine test room, and that the temperatures on the parts following the thermometric test are reported. In addition to completing endurance testing in the engine test room and conducting damage and root cause analyses following the tests, we also provide additional services to our clients.
As Supsan, what is your perspective on sustainability? What are you doing about this concept?
Borusan Holding and Group companies view sustainability as the cornerstone of their business processes and manage it in an all-encompassing manner while performing their research in the focus areas of climate, people, and innovation. As Supsan, we also place a high priority on the topic of sustainability and do research in these three areas. The Sustainable Development Goals that we've selected are included in our strategic plan, and the targets we've set for 2030 have been defined. To attain these objectives, we conduct projects and studies with annual business plans. Under the climate heading, the ARG-P009 Direct Hardening Process Design and Development aims to save 225K kWh of electricity annually, reduce overall power consumption by 3 percent, and reduce indirect carbon emissions by 110 tons.
With our ARG-P004 Reducing Heat Treatment Costs initiative, we have reduced indirect carbon emissions by 6 tons and saved 7,500 kWh of power. With the implementation of induction within the scope of the project, we will use electricity instead of natural gas, hence reducing direct C emissions by 110 tons while increasing indirect C emissions by 55 tons. By utilizing Supsan central emulsion and oil filtration sludge in the SUP-YK 498 project, we transform our waste into a resource for others. We prevent the disposal of this trash, which contains metal and grinding dust and is produced during the grinding procedures. As of December 2021, we joined the TMM (Türkiye Materials Marketplace) platform, which was launched by SKD Türkiye. In our technological center, we revise decommissioned machines in order to extend the life of the devices. Thus, we participate to the process of the circular economy.  We have identified activities to boost Supsan's technological maturity in the innovation title.
Consequently, we implement Robotic Process Automation across Supsan to carry out the operations of detecting, projecting, and transferring labor-intensive and repetitive tasks. Using Data Collection & Processing, we collect data on equipment and benches for monitoring, optimization, and predictive maintenance applications. Within the realm of innovation in 2022, we will execute business development, Industry 4.0, and digitalization initiatives. We will continue our circular economy, decarbonization, and zero waste activities in the context of climate change. Within the context of climate and innovation, we will enhance our machine revision procedure and boost our annual revision rate from 1.5 to 3 Mak. In addition, as a result of our investment in a vacuum evaporator, we will reduce the quantity of wastewater generated by our industrial processes and disposed of annually, and we will save a substantial amount of water by utilizing water online. With the "There is a Woman's Hand in This Job/"Bu İş'te Bi'Kadın Eli Var"" initiative, we are trying to increase the percentage of women employed in the factory. 
Do you have any final comments?
The automobile industry is undergoing unprecedented levels of transformation. Altering customer demands and technological advancements are ushering in an entirely new era by having disastrous repercussions on the industry. We are currently undergoing a period in which companies who can adapt to this transition will continue to exist, while those that cannot adapt and cannot realize this transformation will see the end of an era. As Supsan, we employ the appropriate strategies to realize this transition, and we continue to perform at the highest level in order to propel Supsan into the future.